By: Technician Sharron Cayere
Fire Station 23, West Annandale, A-Shift
Recently, several off duty members from Fairfax County Fire and Rescue (FCFRD), volunteer members of FCFRD, personnel from Fire Station 15, Chantilly, and many neighborhood helpers took part in a free heart screening at Westfield High School. The screening was put on by The Ryan Lopynski Big Heart Foundation in honor of Westfield High School graduate Connor Bouveron. Ryan and Connor both passed away from undiagnosed heart abnormalities.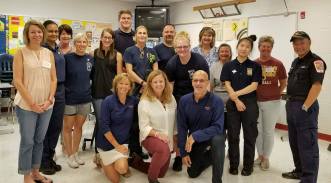 Ryan's parents created the foundation to raise awareness about Sudden Cardiac Arrest (SCA) and to save lives. The goal is to annually test as many children as possible in an effort to detect heart abnormalities.
At the Westfield screening a total of 220, 12 through 26 year olds were screened. Four heart abnormalities were detected by the cardiologist on site! That is four individuals who were not previously aware they had a potential heart issue that could cause SCA. They can now seek appropriate medical care to address their condition.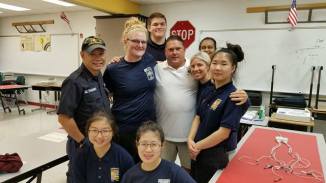 To date the foundation has screened 3846 people and have detected 224 abnormalities! For further information, and future screenings, go to: http://ryanlopynski.org/