---
College and High School Screenings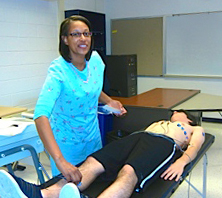 Sudden Cardiac Arrest is the leading cause of death in young athletes in the US. The best way to detect these heart conditions is through a heart screening using an EKG (Electrocardiogram). An EKG screening analyzes the electrical signals of the heart and is not typically provided at a youth's annual physical.
The Ryan Lopynski Big Heart Foundation with the support of local cardiologists, technicians from fire and rescue or medical facilities, and other volunteers will conduct FREE ON-SITE heart screenings. They are provided for students from ages 12-26 years of age, and the results are reviewed on site by local cardiologists.
---
Current Heart Screenings Scheduled
Please read the Permission and Waiver Form and the Letter to Parents for important information. A parent or legal guardian must accompany a child 18 years or under to the screening.
For appointments, please REGISTER
PLEASE NOTE: You must be between 12-26 years of age to sign up for a screening time slot.
---
Although screenings are always offered free of charge, members of the public who can afford payment are encouraged to make a donation. Donations are used to help defer screening costs and enable The Ryan Lopynski Big Heart Foundation to provide future screenings in Fairfax County.
Our Foundation screening events are run solely with community volunteers. If you are interested in volunteering your time please contact us at: feedback@ryanlopynski.org.
We would appreciate your support!