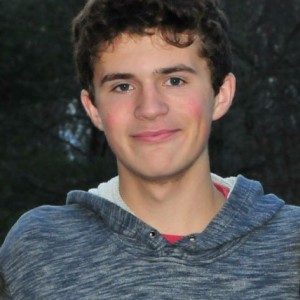 Christmas is over but the beauty of its presence still rings on in my heart. I received an exceptionally special gift during the holiday. This present brought so much joy to my husband and me that I wanted to share the story.  It is a testimonial from a mom whose son attended our screening at McLean High School in Fairfax, VA. last spring. She wrote:
My son, Robbie Arwood, is a 16 year-old Sophomore in High School.  He is a 6'3″ athlete who has always played every season of sports and has been active in Basketball, Soccer and Marching Band and we have always thought him to be a very healthy young man.  Over the last 3 years, he had a few episodes of dizziness and shortness of breath during physical sports play.  The few times this happened, we took him to the doctor and each time he was sent home as being in great condition with a diagnosis of being dehydrated.  I was not concerned at all as these issues really were rare and seemed minor.  My mom saw an email about your free EKG Screenings at McLean High in May of 2014 and she insisted that I take my son.  As soon as the EKG was finished, we took the results down the hall to one of the volunteer doctors where she read my son's EKG. The doctor could see the Delta Wave right away and really urged us to go see a cardiologist.  We did and I am so thankful.  Robbie was diagnosed immediately with a high-risk case of Wolff Parkinson White Syndrome, which if left untreated, can ruin the heart.  His doctor suggested Cardiac Catheterization Ablation heart surgery to repair this birth defect and Robbie just went thru this procedure on December 10th.  The surgery is minimally invasive and has a very high success rate for correcting the underlying issue.   Robbie's surgery went very well and his doctor says he will likely be playing basketball again by the first week of January.  I can honestly say that this foundation likely saved my son's life as I do not think Robbie's WPW would have been uncovered had we not done the EKG.  I am so thankful for The Ryan Lopynski Big Heart Foundation for helping me to save my son and I have so much respect for Ryan's family for taking such a personal tragedy and turning it into such good for so many.  I will be forever grateful!
We are grateful that Nikki took the time to share her son's story. It is youths like Robbie, who inspire us to continue our screenings. We hope to save more teens in 2015! God Bless!!!
Peggy Fox from WUSA featured his story February 18, 2015