From 2002 until 2008 my 4 children swam for The Country Club of Fairfax. I remember it fondly as the whole family would participate in all the activities together. Johnny and I would spend our Saturdays volunteering at the meets with the other parents timing the kids, inputting stats into the computer, lining the age groups up to swim, or serving snacks. The summers were filled with Friday night potluck dinners, progressive dinner parties, lip synch, and lock-in's (chaperoned sleepovers at the pool). Finally, all the families would celebrate the end of the season with the formal awards banquet. This was highlighted by the senior send-off video's that were creatively choreographed every year by Paul Thuman such as the one from my sweet Riley Roo…
A recent member and Swim Team Rep from the club contacted me to let me know that although she did not know Ryan, she was touched by the leadership award presented in his honor every year at the Annual Dominion Country Club All Star Swim Meet. She shared with me the honorary winners to date of the "Ryan Lopynski Award of Excellence". She also included a picture of the 2013 recipient, Connor McGrath from Country Club of Fairfax, presenting the award to the 2014 winner Nick Kulic from Evergreen Country Club.
2009: Alex Rudolph, International Country Club.
2010: Will Henry Mullins, Country Club of Fairfax.
2011: Michael Speer, Springfield Country Club
2012: Ryan Natal, Trump National
2013: Connor Chess, Country Club of Fairfax
2014: Nick Kulic, Evergreen Country Club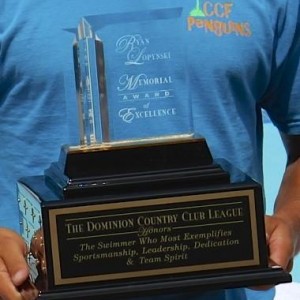 The award was inspired by two avid CCF swim team moms, Suzanne Mims and Nancy McGrath. Jerry Heilbronner meticulously designed the award as a "pay it forward" token after his daughter passed away years prior. The trophy reads:
"The swimmer who most exemplifies Sportsmanship, Leadership, Dedication and Team Spirit"
The team rep emphasized the fact that this award was such an honor for the swimmers to receive, and a beautiful way for Ryan's legacy to live on. But the other reason the Team Rep contacted me was to ask me for advice after she learned of our foundation and its mission. Her pediatrician detected a heart murmur in both of her young children. She was told it was very common and not to worry. As a mom with very active athletic elementary school age children she wanted to know if her children should get screened. My answer of course was a resounding, YES!
The reality is, you are never too young or too old to get an EKG screening. They take only 7 minutes and detect up to 70% of heart abnormalities. Every 2 days a child dies of SCA in the US. It is the #1 leading cause of death in teen athletes. In the future, my hope is to include an EKG screening at every annual athletic physical. Isn't it time to screen your youth before it is too late?