RICHMOND, Va. (WRIC) — 8News is taking the lead with the Ryan Lopynski Big Heart Foundation to offer free heart screenings to young people in the Richmond area.
The event is taking place Saturday from 9 a.m. until 1 p.m. at the University of Richmond.
8News anchor Kristin Smith reported live from the event at the Weinstein Center for Recreation and Wellness located at 28 Westhampton Way, Building 23b, Virginia 23173.
"The Ryan Lopynski Foundation. That family saved my life," Robbie Arwood said.
Kristen said that this is the second year that the event has been held and that organizers are expecting more than 250 teens to show up to get their hearts checked.
The project all started with a dedicated mom and dad from northern Virginia who are on a mission in memory of their son.
18-year-old Ryan Lopynski died from an undetected heart condition nearly eight years ago. But his parents still feel their son's presence every day, they said.
"Our little angel in heaven for sure," Ryan's mom Jeremy Lopynski said. "He's always reaching out to me and my husband. Just to give us the energy, to give us encouragement."
Since Ryan's death, the Lopynski's have worked to save other young people's lives. Their Big Heart Foundation offers free EKGs to teens across the Commonwealth.
"On one hand, you don't want a child to have a problem," Ryan's dad John said. "On the other hand, for us, catching a child who has a problem where he or she doesn't realize they have a problem is very gratifying."
The Lopynski's foundation has checked the hearts of nearly 3,500 teens so far, including Robbie Arwood who had to have life-saving surgery after a screening detected a rare heart defect.
"The Ryan Lopynski Foundation. That family saved my life," Arwood said.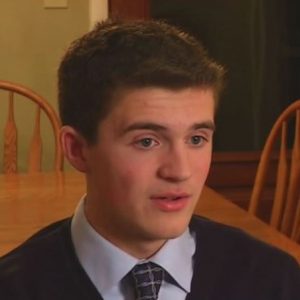 In Richmond last year the foundation screened about 240 teens, a handful of them were referred to experts with potentially dangerous heart problems.
It's not the kind of news a parent wants to hear, but the Lopynski's will tell you the alternative could be a devastating loss you never overcome. That's why their passion pushes them to help others in their son's memory.
"Ryan's been there every step of the way really, and it makes us feel good when we're doing something to save another family," Jeremy said.
The Lopynski's are at the event at the University of Richmond going on today. The event will be free to any young person between the ages of 12 and 26.
Ryan Lopynski Big Heart Foundation offering free heart screenings